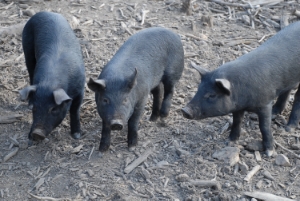 Slow Meat
Slow Meat is a movement that actualizes the culture of confinement issue and an event that brings together ranchers, farmers, butchers, chefs, eaters and more to share ideas on how we can turn the herd toward meat that is good, clean and fair for all.
We believe in SLOW Meat: Better, Less.
For more information, visit Slow Meat.
Feeding the Future
Slow Food RVA's Microgrant Program
The Board of Slow Food RVA is pleased to announce the launch of a micro-grant program, Feeding our Future. It is designed to help further research, product and program development, and implementation for local producers, educators, and community activists.
At this time, grants proposals are accepted on a rolling basis and will be reviewed biannually. Spring deadline is April 15, and the Fall deadline is October 15. Grants will be awarded in May and November.
For more details and to apply, visit the online application form.
The Snail of Approval
Slow Food RVA's Snail of Approval program awards Food Purveyors that exemplify the standards of Sustainability, Authenticity and Quality of the food we eat in the Richmond area. A Food Purveyor can be a farmer, grocer/market, food producer or restaurant. Awardees must work toward the Slow Food movement's mission of good, clean, and fair food.